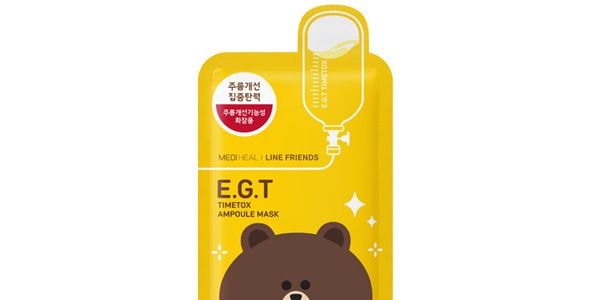 PRODUCT DESCRIPTION
Mediheal collaborates with your favorite characters from LINE! Mediheal features some of LINE's famous characters for their bestselling face masks. The EGT Timetox Ampoule Mask is your ultimate anti-aging solution for it boosts your skin's elasticity, firms and lifts it for a much youthful appearance. This ampoule mask features an exceptional blend of rich anti-aging ingredients including EGF (epidermal growth factor), peptides, astaxanthin and adenosine. These ingredients work seamlessly together to keep the skin firm, therefore minimizing wrinkles and fine lines. It also prevents future signs of aging to keep your skin looking radiant, feeling soft and youthful.
INGREDIENTS
EGT Timetox contains Centella Asiatica, AC-Solution, Salicylic Acid and Adenosine. PDF AC Dressing contains Centella Asiatica, AC-Solution, Salicylic Acid and Adenosine. IPI Lightmax contains stabilized Vitamin C AA2G, Mulberry root, Arbutin. NMF Aquaring contains Hyaluronic acid, Adenosine, Ceramide, Natural Moisturizing Factor (NMF), LS 8865 and Witch Hazel.
HOW TO USE
Step 1. After cleansing and toning, place the mask sheet onto your face and leave it for 15 to 20 minutes.
Step 2. After the allotted time, remove the mask and pat the remaining essence onto the skin for better absorption.
PRECAUTIONS
If the following symptoms arise upon use of the cosmetic product, immediately discontinue use and consult a dermatologist, for continued use may aggravate the symptoms. A. Redness, swelling, itchiness, stimulation, or other symptoms or B. Occurrence of the above symptoms upon exposure to direct sunlight. Do not use on areas with wounds, eczema, or dermatitis. Do not store in areas with extreme heat or cold, or under direct sunlight. Avoid the eye area.
HOW TO STORE
Do not store in direct sunlight, extremely hot or cold location. Store in a dry area. Keep out of reach of children.
PHOTOS